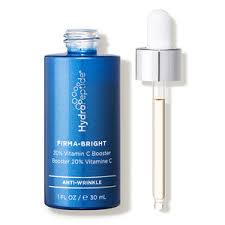 HydroPeptide Firma-Bright.
HydroPeptide is a beautiful,results-driven skincare brand. The product range is geneticist developed, has wonderful clinical results and unlike a lot of cosmeceutical ranges , offers luxury experiences.
Firma-Bright is a super skin booster . It comes in a dropper formula so you can easily control the amount of product you use. This is brilliant as there is also no risk of spillage.
The official blurb is that it is….
A super-potent vitamin C booster , formulated with free-radical fighting anti oxidants and radiance boosting peptides to protect your skin & improve the appearance of dullness , fine lines & wrinkles .
Sounds great, tell me more!!
This vitamin C booster was designed to visibly rejuvenate skin from the outside without changing any step in your routine. Getting the proven benefits of a topical antioxidant like Vitamin C—one of the gold standards of dermatology— is as simple as adding 3-4 drops to your serum or moisturizer.
At 20% potency, Firma-Bright goes beyond antioxidant protection and brightening to help the skin appear firmer and more lifted. This stabilized form of Vitamin C called Sodium Ascorbyl Phosphate is supported by skin-brightening and -regenerating peptides. High doses of Vitamin c has also been shown to stimulate the skin's production of collagen. Particularly useful  for smokers to freshen & brighten their skin
What does that mean?
It means that you'll see a visibly healthier and a more youthful-looking you. Firma-Bright also includes light and heat stable niacinamide to help protect against free radical damage, which leads to a reduction of lines & wrinkles.
In a nutshell.
– Firms sagging skin
– Brightens accumulated pigmentation
– Protects skin using potent antioxidants
– Reduces inflammation in the skin
How do you use it?
It's a booster treatment so simply add 3-5 drops into your preferred serum or moisturiser and apply as normal.