We offer two options for colouring your brows. Traditional dye or Henna .
Henna is a natural dyeing agent that is vegan, containing no lead or ammonia and doesn't require the use of hydrogen peroxide. Longer lasting than traditional brow tinting with multiple colour variations. This treatment is a great alternative for those who do not get long out of regular brow tints.Excellent for covering stubborn greys to create soft natural looking brows.
Whether you choose traditional brow tint or Henna , you must get patch tested beforehand .Please contact the salon to arrange.
Brows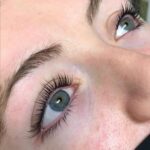 Brow tint…..€10
Brow & Lash tint…€20
Brow tint & trim …..€15
3-in-1 ………..€25
Henna Brow ……€30 ( incl free brow trim)
Lashes
Tinting…. €15
A professional treatment to permanently dye your natural lashes, lasts up to 6 weeks depending on lash shed and colour . Patch test required.
LashUs LashLift…€48
An enhancement service to get the best out of your natural lashes and create the appearance of long,thicker and more visible lashes . Lashes are also tinted during the treatment . No maintenance required . Patch test essential
Express Lash… €40
Instantly creates the appearance of longer , fuller lashes by adding individual synthetic lashes , strategically placed throughout your own lashes . Enhancement lasts for up to 3 weeks .
Removal 
Of our work €10
Removal of product from another salon €20