Hard Gel or L&P (acrylic)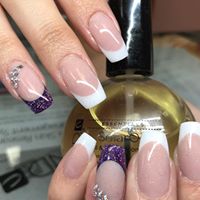 Why apply gel or acrylic to your nails ?
Both these systems allow you to instantly add length to the natural nail , offering a strong protective coating .
Most of our clients would have had length added to their nails on their first appointment and had those nails rebalanced every 3 weeks, this leads to your own natural nail eventually growing out and you wearing a thin overlay of either product to protect and support them.
Alternatively, if your own nails are a little on the weaker side, you're
happy with the length and you just need some strength , a hard gel overlay is a great option for you .
Nail biters or those who are 'heavy handed' may be better suited to the tougher L&P system.